This is my best UK and international street photography of 2020. Featuring Brighton and London in the UK, plus Vietnam and Cambodia. It's a year in pictures as seen through my lens as a UK based street photographer.
What a Year!
What a year 2020 turned out to be! I was in Ho Chi Minh City (Saigon) to welcome in the New Year. It was an amazing experience. But of course, at that time, nobody had a clue about the impending global pandemic. Coronavirus went on to define 2020 the whole world over.
But that's enough of that, let's get back to the street photography. These are my best images from January to December 2020, presented in date order:
International Street Photography – 2020
I was travelling over the Christmas and New Year period. So 2020 started with international street photography for me:
Ho Chi Minh City – Vietnam
So, as I was saying, I saw in the New Year in Ho Chi Minh City, Vietnam. I've not yet published a gallery featuring this wonderful city, so it's the first time these images have appeared on my website.
1st January – New Year
I really liked these two images the first time I looked at them. But they've now taken on a new significance. They tell a story about crowds of people celebrating. Something that is out of the question at the time of writing this post. We're currently in and out of "Covid-19 Lockdown" and "Social Distancing" has since become a thing: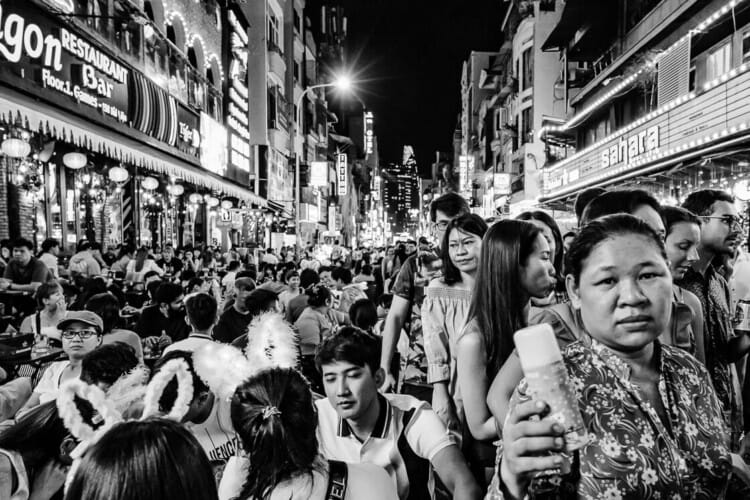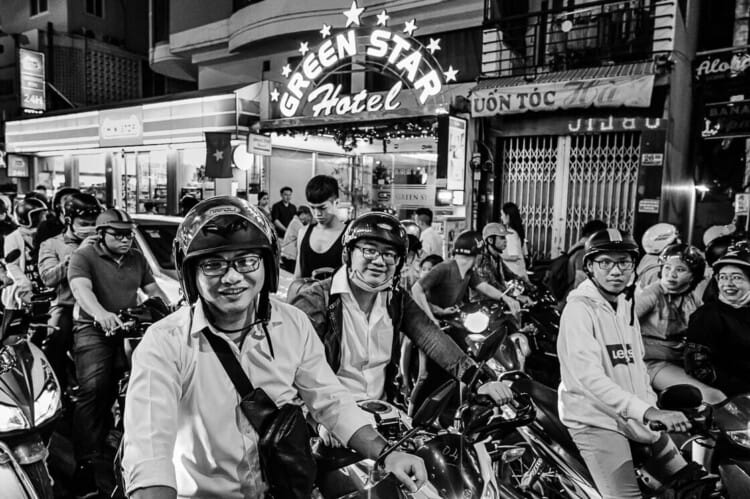 Cambodia – January
Immediately after seeing in the New Year I spent New Year's Day on a coach crossing the border into Cambodia. It's fair to say I mostly slept on the coach! First stop was the capital city, Phnom Penh. Ironically, I didn't get much in the way of good street photography there. Within hours of arriving in the city some drive by moped thieves tried to snatch my phone out of my hands. After that experience I tended to leave my expensive camera locked up in the hotel room!
However, a couple of days later I'd left the city and ventured into rural Cambodia. I wasn't expecting rural life to present many opportunities for street photography. But I was wrong! In fact, my best street photography in Cambodia features this rural life! Heres a couple of my favourite images from that leg of my trip: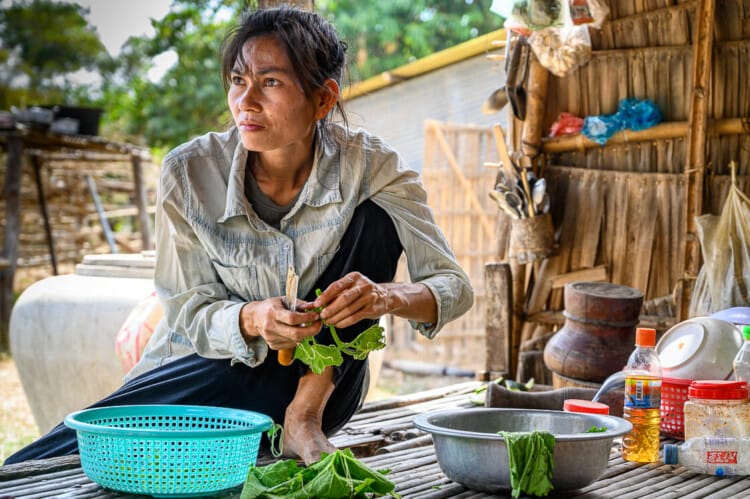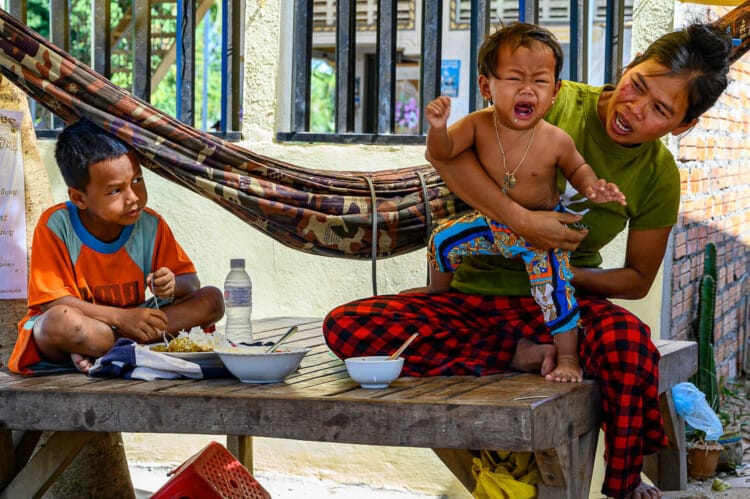 Back to Vietnam
I had to fly back to Vietnam after the Cambodia leg of my trip. I'd started my trip in Hanoi just before Christmas 2019 and had to return there for my flight back to the UK. I did get some great street photography in Hanoi before Christmas, but I'm not going to include any of those images here. After all, they were taken in 2019 and this post is all about the best of 2020.
Hanoi – January
However, I had a further 24 hours in Hanoi in January 2020 before my flight home. I used that time wisely, out on the streets with my camera: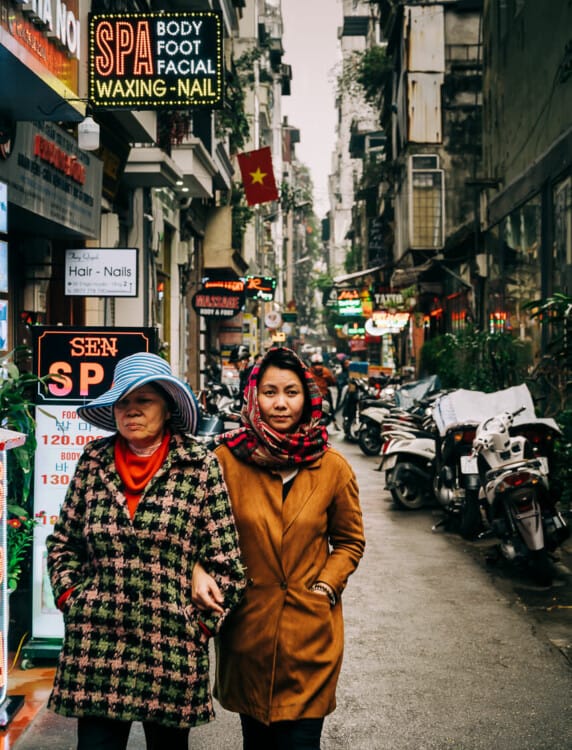 UK Street Photography – 2020
I then flew back home to the UK and the typical cold, grey and wet winter weather in Brighton! The rest of 2020 was all about UK street photography for me:
Brighton – January
Shortly after I returned to the UK I decided to attend a photography workshop in Brighton. This workshop was conducted by talented local photographer and fellow member of the Brighton and Hove Camera Club, Jerry Webb.
I wanted to attend Jerry's workshop because the theme was right up my street (pun intended) – Dynamic Street Photography. A one hour photo walk task followed by a beer afterwards was also a factor in my decision to attend. I do like a challenge! Plus it was an opportunity to catch up with friends. Considering that we only had one hour on that photo walk I was especially pleased with these two images: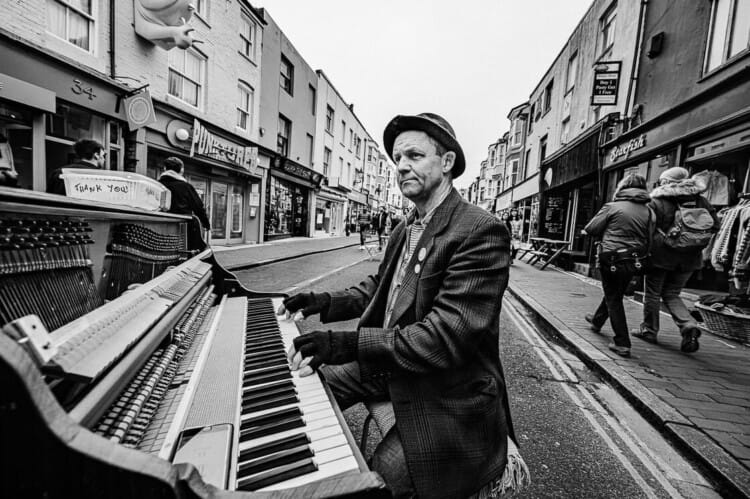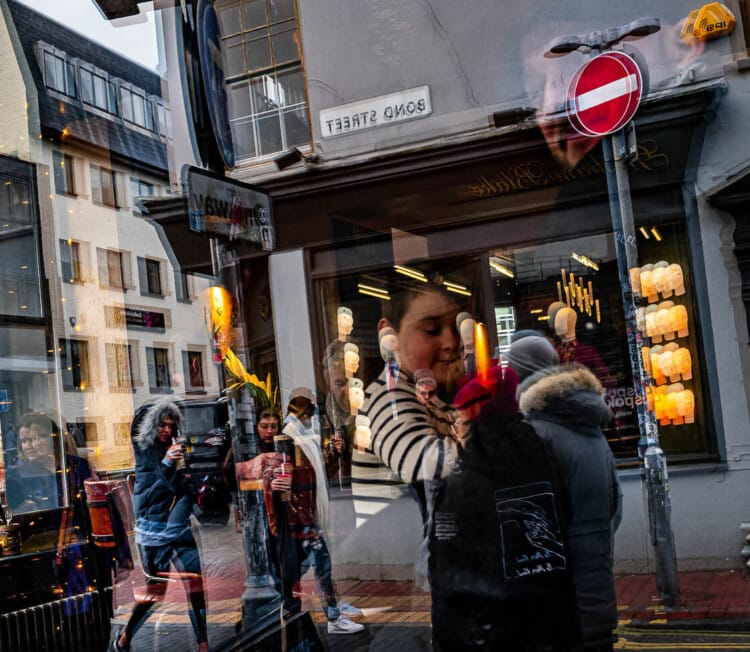 London – March
After that workshop I didn't do anything photographically in the UK until March. That was when I'd been planning to do a London street photography trip with some good friends from my camera club.
The 4 of us finally did our "Streets of London" trip on the 6th March. However, Covid-19 was creeping to the top of the news agenda at this point. Little did we know that shortly afterwards, on the 23rd March, the UK would be put into full lockdown. It turned out that we weren't going to be allowed out again until June. But, of course, we didn't know that at the time! Anyway, here's a couple of images from that London photography trip: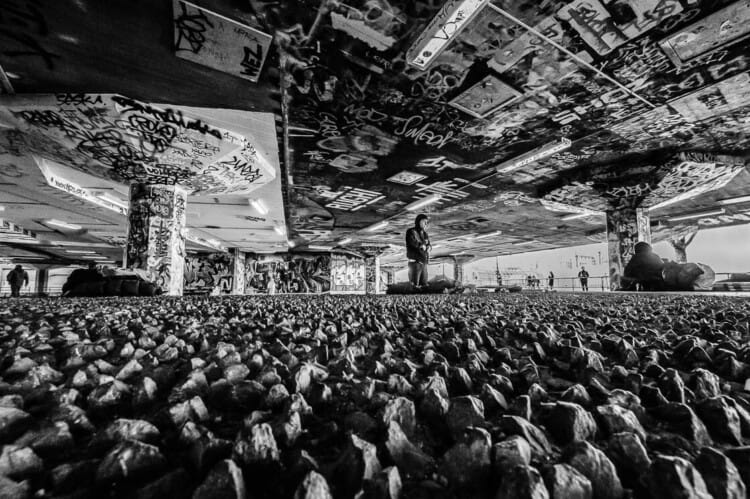 Brighton – June & July
I live on the outskirts of Brighton but I didn't venture into the city centre during Covid lockdown. In fact, I didn't do any photography whatsoever during lockdown. I chose to stay at home and follow "the rules". I finally went back into Brighton with my camera in June, after lockdown was lifted. By then I was going stir crazy and itching for a photographic project to get my teeth into.
That project turned out to be street photography featuring Brighton Beach and Seafront. At first it seemed strange to be back in the city centre surrounded by lots of people. But I observed the social distancing rules and soon got back into my stride photographically speaking. The bulk of this project was undertaken between June and July 2020. Another feature of this project is that is was all done with an ultra wide angle lens. Here's a few of my favourite images from that project: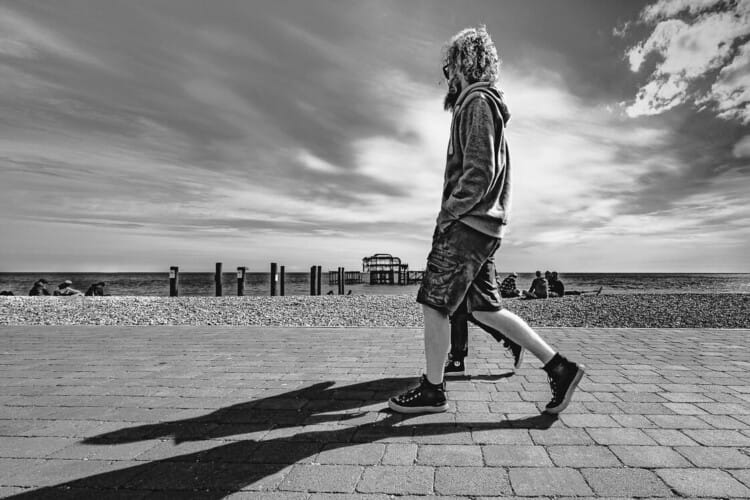 I'm also going to include this image here. It didn't make it into my Beach and Seafront project, but it's still one of my favourite Brighton street photography images from July 2020: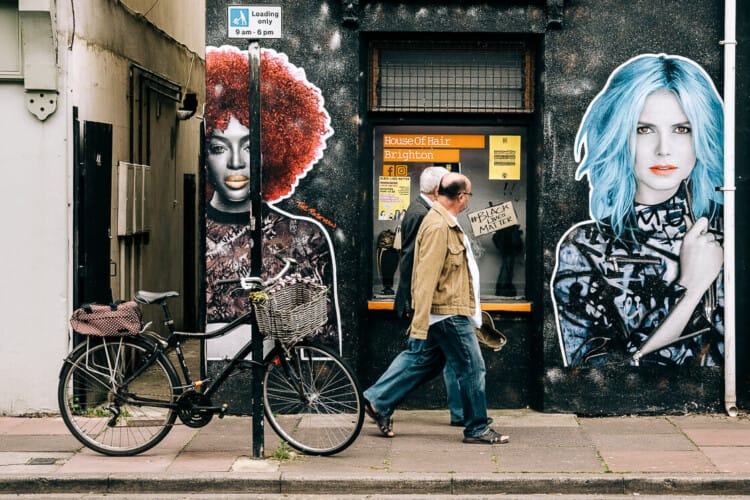 Eastbourne – August
By the time August arrived I was fully back into my stride. The government were now encouraging us to "Eat Out to Help Out" and my fear of going out due to the pandemic was waning. So I decided to be bold and venture 15 miles from home. That meant a trip to Eastbourne!
Sunday 23rd August was a glorious summer's day. So that's when I drove to Eastbourne for some street photography and to enjoy the weather. I'm quite pleased with my images from that day out. I even managed to do a bit of motion blur street photography whilst I was there: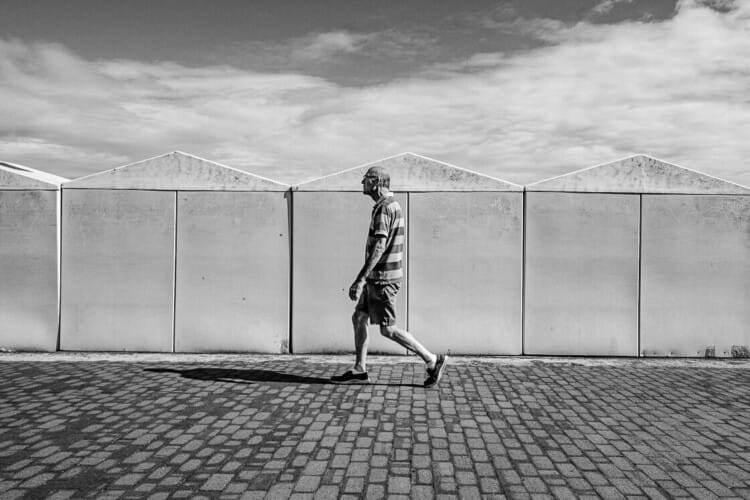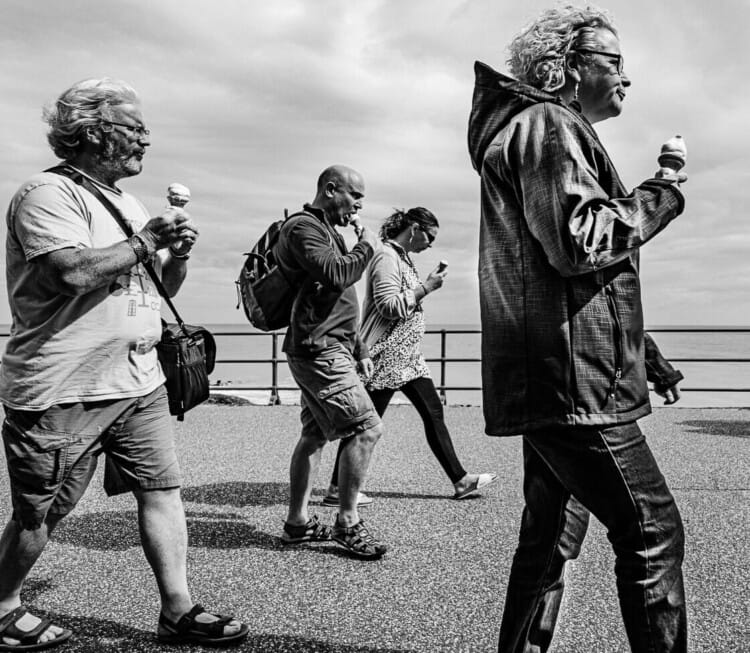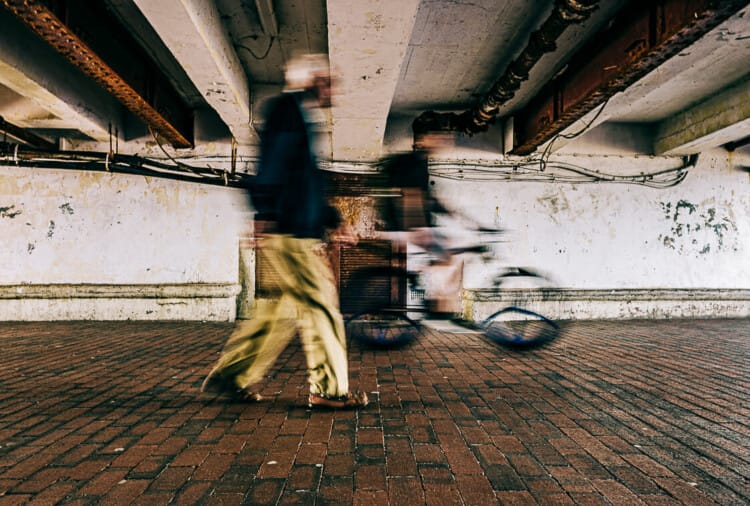 There's a little town called Seaford situated between my home and Eastbourne. This is one my of my favourite August 2020 street photography images, taken in Seaford. So I'm including it here: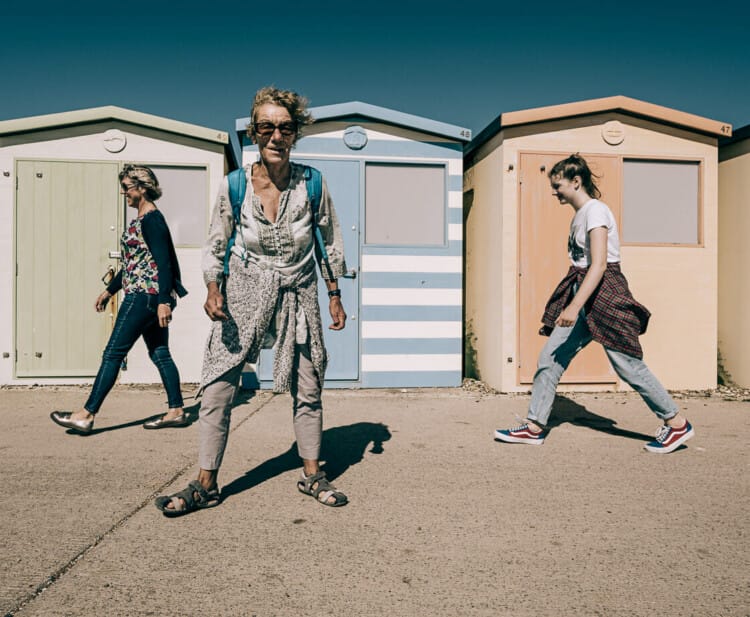 London – September
In September I did some more photography in London. Wearing my professional photography hat I covered a couple of demonstrations during those visits. Namely: Resist and act for Freedom and the Panto Parade with my colleagues from Excluded UK.
However, I also did quite a bit of street photography whilst back in London. I've yet to process all of those images. But here are some of my favourites, published here for the first time: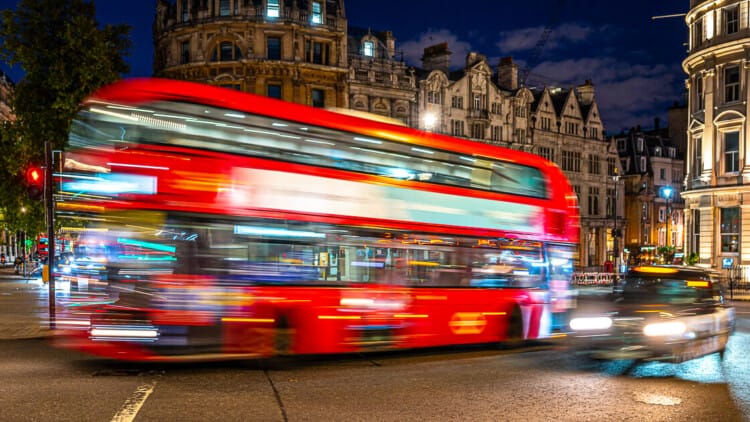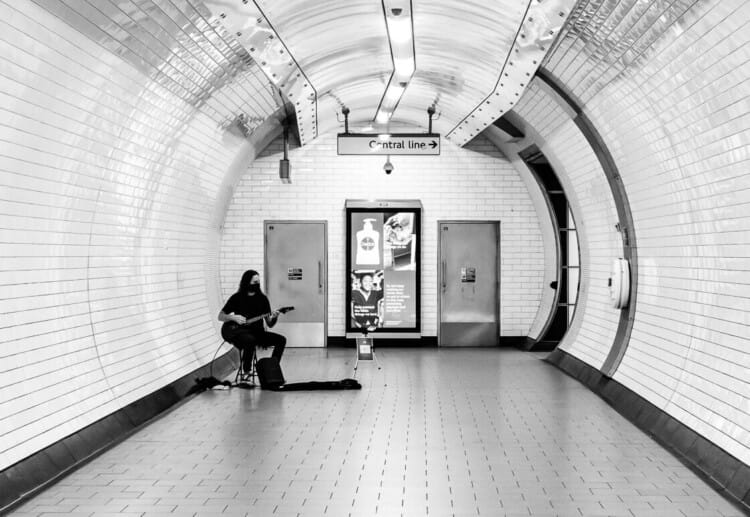 Brighton – September
I live in the area, so it's inevitable that my best of 2020 street photography features more images created in Brighton. Besides that, more Covid restrictions were on the way. That was going to make travel further afield both impossible and irresponsible.
I treated myself to a new lens and used that for much of my street photography in Brighton during September. The new lens has a longer focal length, meaning I was able to create a different style of street photograph. Here are some examples: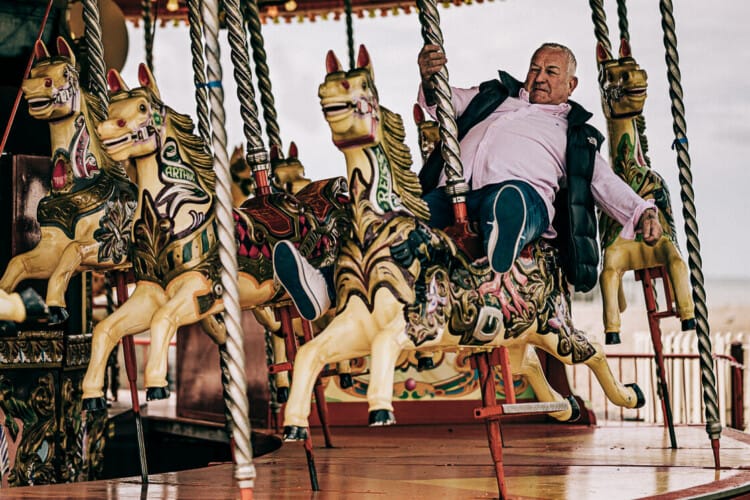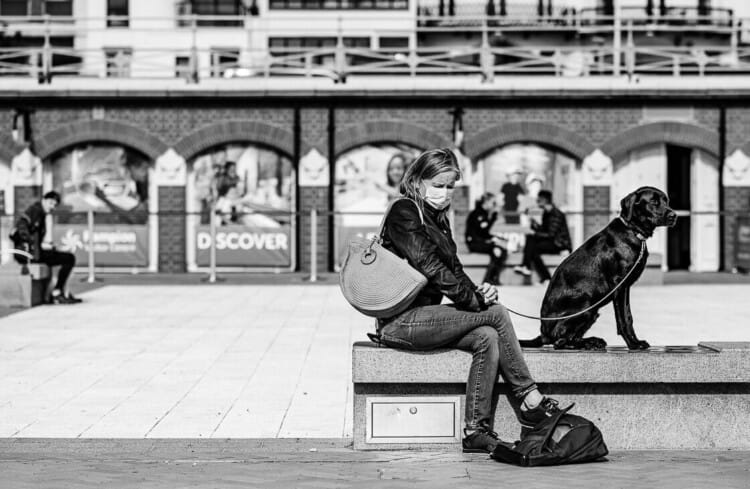 Brighton – October
My street photography was all about Brighton in October. I like the autumn period in the UK. The nights are drawing in and it's getting dark earlier in the evening. Plus it's Halloween. To me that means it's time for dark and moody images. Like this: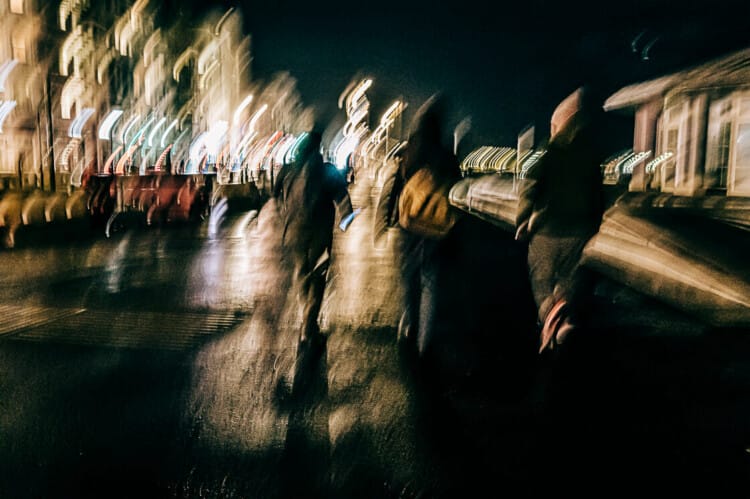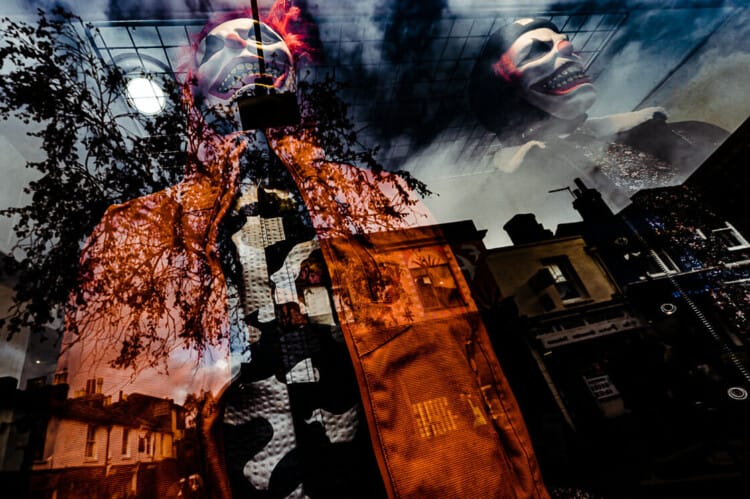 Hastings & Brighton – December
With the arrival of winter we are nearing the end of this journey featuring my best street photography of 2020. Actually, one of my favourite images of the winter was created in Hastings, about an hour away from my home. I spent a day in Hastings in December 2020, a few days before the town was placed under Tier 4 Covid restrictions:
Inevitably, the rest of my street photography during the winter of 2020 features Brighton. Some of my favourites include: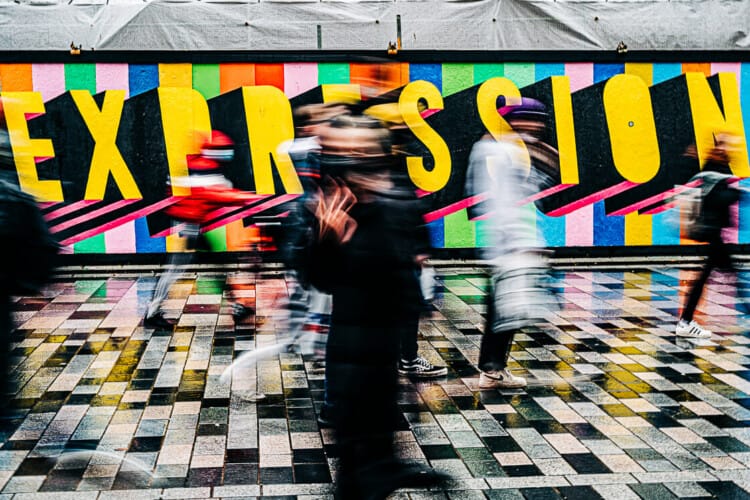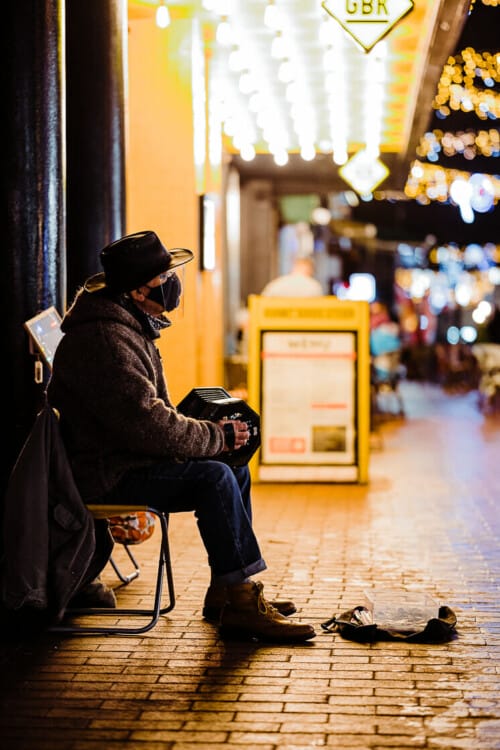 Summary – Best of 2020
Thanks for sharing my journey through 2020, expressed through my UK and International street photography. In summary it's time to pick a best image from 2020. As photographers we learn to critique our own work. But the global epidemic during 2020 has to be taken into account this time too. It's important to tell that story. On that basis I've decided that this image is the winner for me this year. Yes, its where I started the year. In Saigon on New Years Day:
What do you think? Please do leave a comment below.
Related Topics
You can learn more about my work as a street and travel photographer here or my work locally as a Brighton street photographer here.
Share this post: