My Brighton Street Photographers Guide features the best locations and seasons, with tips and advice for street photography in Brighton.
Introduction
I'd best start off by introducing myself. I've been a photographer for over 40 years and based in the Brighton area since 2008. Over the years I'd dabbled with street photography, but it became a local passion of mine back in 2018.
It was a natural progression to start publishing my Brighton street photography galleries on a regular basis, which I started doing in August 2020.
For a street photographer Brighton is a goldmine. It's a wonderful city that has gifted me some amazing images over the years.
About this Guide
Therefore, to give something back, I decided to publish this Guide to Brighton Street Photography to help other photographers. Plus, Brighton residents might be interested in the images or the history presented here too.
In this Guide we are going to cover:
The best street photography locations in Brighton.
The seasons in Brighton.
Tips and advice for Brighton street photographers.
Who is this Guide for?
So, who is this guide for? That's a great question! In a nutshell it is for beginners and experienced street photographers alike. Furthermore, it is for locals as well as visitors unfamiliar with Brighton too. Hopefully there's something useful here for all of you.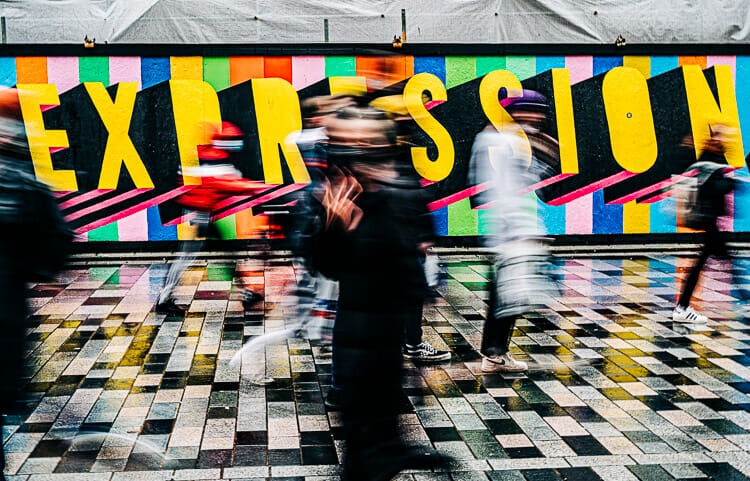 Top 10 Locations in Brighton
The thing with Brighton is that there are street photography opportunities all over the place, literally around every corner! But, after reviewing my images from the last few years, I can summarise my top ten best locations for Brighton street photography to give you a starting point:
1. West Pier
The Brighton West Pier opened in 1866 and closed amid financial difficulties in 1975. Various winter storms, followed by two fires in 2003 reduced her to the continually decaying steel skeleton that remains today. In relation to street photography, this famous ruin is a great backdrop for your images. Learn more about the West Pier.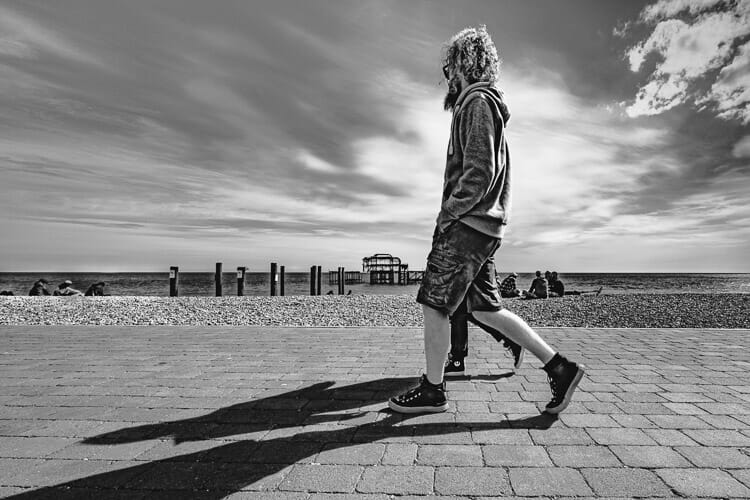 2. Palace Pier
In stark contrast, Brighton Palace Pier is a vibrant hive of activity attracting millions of visitors each year. This pier opened in 1899 and has been in operation ever since. It features a fun fair, amusement arcades and countless food stalls and bars. For street photographers the possibilities are endless. Learn more about the Palace Pier.
3. Brighton Seafront
I mentioned earlier that I started publishing my Brighton street galleries in 2020. In fact, the first gallery I published was my Brighton Beach and Seafront street photography project from that summer. Brighton seafront is the gift that keeps on giving for us street photographers, all year round. The busiest and most vibrant area is situated between the two piers. This area is packed with bars, restaurants, sports activities and buskers entertaining the crowds.
4. Kemptown
Kemptown is a district situated slightly east of the main city centre. It starts opposite the Palace Pier and extends eastwards towards Brighton Marina. Kemptown has a vibe all of its own and is packed with independent shops, deli's, bars and restaurants. It's a fascinating blend of Bohemian cool and chic, set amongst Regency and Victorian architecture. Historically known as an artists and actors quarter, Kemptown is also somewhat of a focal point for the LGBTQIA+ community. St James's Street is a good place for street photographers to start exploring Kemptown and its local characters. Learn more about Kemptown.
5. i360
You can't miss the Brighton i360, literally! That's because it dominates the city skyline and is situated right on Brighton Beach, opposite the West Pier ruins. The i360, which opened in 2016, is a glass viewing platform that elevates to 160 metres high. The i360 is an interesting backdrop to use when composing your street photographs. Learn more about the i360.
6. The Lanes
The Lanes is perhaps the most famous area in Brighton. It's a maze of very narrow cobbled alleyways (known as Twittens), opening onto various squares that are packed with jewellers shops, boutiques, eateries and pubs. The Lanes are situated immediately north of the central seafront (which is between the Piers). Some parts of The Lanes date back to the 16th century, when Brighton was a small fishing village called Brighthelmstone. In relation to street photography, you can't go wrong in The Lanes. However, it's a big advantage to have a wide angle lens, due to the very narrow alleyways. Learn more about The Lanes.
7. North Laine
North Laine isn't a street, it's another district of Brighton, situated just to the north of The Lanes. This was once a slum area, so much so that the local council wanted to demolish it in the 1970's. Ken Fines, who was the Borough Planning Officer at the time, fought a campaign to save North Laine during this period. Not only was he successful, there was a complete reversal. This led to the establishment of the North Laine Conservation Area, which was designated in 1977. Looking at this thriving area today it seems inconceivable that anyone wanted to demolish it. No wonder there's a plaque to commemorate the late Ken Fines (1923–2008) in North Road! Learn more about North Laine.
North Laine is, in my opinion, one the best areas for street photography anywhere in the UK, let alone Brighton! That's why number 8 and 9 on my top 10 list are specific streets within the North Laine area. Namely Kensington Gardens and Upper Gardner Street:
8. Kensington Gardens
Most local people, myself included, would say that Kensington Gardens is the epicentre of the North Laine district. Kensington Gardens is a narrow pedestrianised street that is still cobbled in places, with block paving to replace the original cobbles where they were too worn to be safe. It's a hive of activity, brimming with market stalls, indie shops, artisan crafts and eateries. For street photographers, Kensington Gardens is a street you could devote the rest of your life to, without ever running out of fresh new photographic opportunities!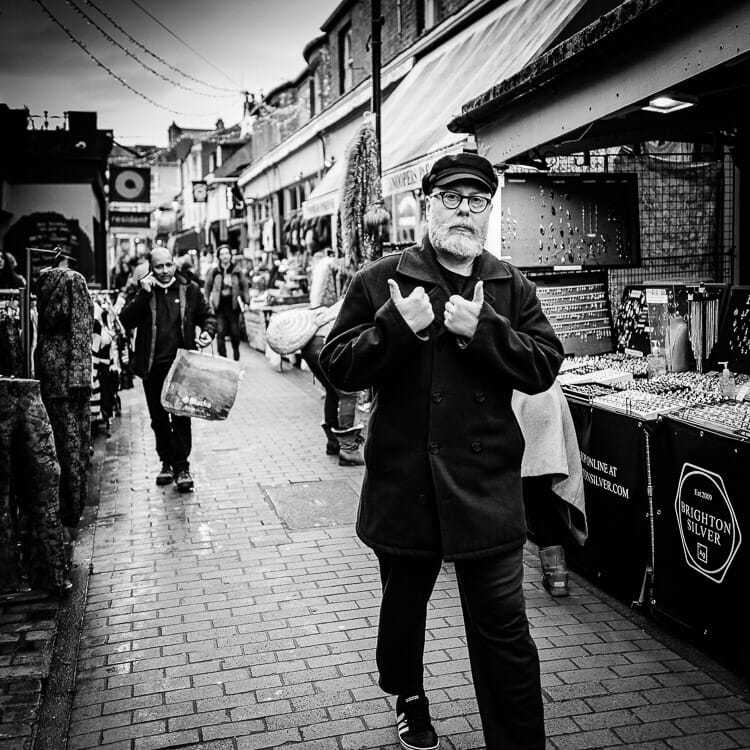 9. Upper Gardner Street
Upper Gardner Street runs a close second to Kensington Gardens as my favourite part of the North Laine area. This street isn't fully pedestrianised, but it's closed to traffic during some peak hours. Therefore, the road becomes dominated with al fresco seating during the day, especially during the summer. Obviously this is great for the countless street cafes situated here. It's also great for us street photographers!
10. Brighton Pavilion
The architecture of Brighton Pavilion looks totally out of place in relation to the rest of the city, old or new. Thats because its design is based on Indo-Islamic architecture. Which isn't very Sussex! The Royal Pavilion (to give it its official name) was built in several stages from 1787 by George, Prince of Wales. He went on to accede to the Throne as King George IV. Famous for his extravagance, Brighton Pavilion is perhaps the best example of his wild excesses. These days the Pavilion provides countless opportunities for us street photographers.
Pavilion Gardens
Furthermore, the Pavilion gardens are a magnet for picnickers, buskers or simply as a place to chill out. It's a peaceful spot in the heart of the city. Learn more about the Royal Pavilion.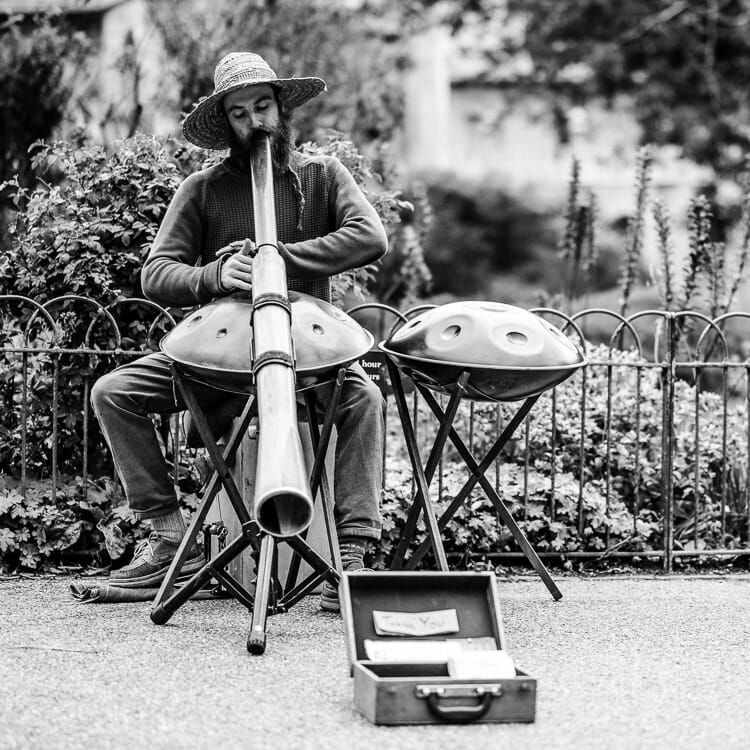 Best Locations Map
For those of you who are unfamiliar with the city I've created a Google map to accompany this Brighton Street Photographers Guide. It is numbered to correlate with the best locations listed above. They're all within easy walking distance of one another:
Brighton Seasons
Why am I talking about the seasons in Brighton, especially given the unpredictability of the Great British Weather? That's a great question!
Firstly, it's about the quality and type of light at various times of the year.
Secondly, it has a bearing on how busy Brighton is, given that it's a seasonal seaside resort as well as being a major UK city.
Thirdly, if you're planning a trip to Brighton, this information might help you decide what time of the year to visit.
Finally, it's because the galleries featuring my images as a Brighton street photographer are posted on a seasonal basis too.
Spring
Spring is a great time of the year. Somehow the city seems to start coming alive after the winter, even though it never really sleeps. If we're lucky with the weather the beaches start to get busy. Plus the number of tourists and day trippers starts to increase. We have a bunch of Bank Holidays too, at Easter and in May. The sun is still low in the sky, which is great for photographers like me who enjoy working with the shadows this creates. Here's a gallery featuring the month of May to give you more of an idea.
Summer
Brighton is packed during the summer, especially at the weekends and even more so if the weather is nice. It's hard to describe, but there's a non-stop feel good party vibe in the city at this time of year. Plus there's Stag and Hen Parties galore, with all the associated shenanigans! To me, as a photographer, the challenge is to capture the essence of these feel-good vibes with my images. Here's one of my galleries from the summer, hopefully you can see what I mean!
Festivals and Events
The other great thing about Brighton is the sheer number of festivals and events in the city, especially during the summertime. In fact, there's too many to mention! A great resource to see what's happening is the "What's On" section of the Visit Brighton website. These festivals and events provide us photographers with countless extra opportunities.
Autumn
In many ways autumn is similar to the spring, but in reverse. The height of summer is over, so Brighton isn't quite as busy now. But there's still plenty of visitors and days that are warm enough for the beach. The hours of daylight are decreasing now, so we're back to the sun being lower in the sky and playing with shadow again. Plus there's Halloween and stuff like that. If you're looking for some more inspiration here's a gallery featuring the month of October.
Winter
I love the winter here in Brighton. Firstly, it gets dark early, so we can do some night street photography at sensible hours. Secondly, we have things like Christmas lights to play with, so we can add some interesting bokeh to our shots if we use shallow depth of field. Here's one of my galleries featuring winter to show you what I mean.
Bonus – Rain
Heres's a bonus tip for you, photograph in the rain! It's great for adding another dynamic to your images. Furthermore, some parts of the city have cobbled or block paved streets that shine when they're wet. This definitely adds some extra dynamism to your images.
Tips and Advice
No Brighton Street Photographers Guide would be complete without some tips and advice. But, of course, that depends on your experience:
Experienced Street Photographers
If you're an experienced street photographer you won't need any advice from me. Just do your thing! However, one tip I do have is to bring a wide angle lens if you have one. That's because parts of The Lanes and some of the North Laine streets are VERY narrow! Personally, I default to using my 16-35mm f4 zoom lens these days (that's on a full frame camera). On the other hand, if you're into candid or posed street portraits, a 50mm or 85mm focal length is ideal. I use my 85mm f1.4 prime lens or 28-75mm f2.8 zoom lens for street portraiture.
Tips for Beginners
For beginners who are new to street photography, I'll give you some tips and advice to consider:
Don't worry about equipment. Use what you have. A smartphone is fine.
If you're using a camera instead of your phone, read up on "shooting from the hip".
If your camera has a "silent mode", use it!
Most beginners are nervous about photographing people on the streets. I know I was when I first started!
If that's the case, try sitting on a bench, on the Pier or outside a coffee shop. Then press the shutter when somebody or something interesting appears in your frame.
Just keep clicking, you can delete the misses afterwards.
If a shot looks bland, try cropping it and/or converting it to black and white afterwards. You might be pleasantly surprised at the result.
Practice makes perfect, just keep shooting, we were all beginners once!
For some more inspiration, have a look at my free tutorials about dynamic street photography and long exposure street photography to achieve deliberate motion blur.
Alternatively, have a look at my Brighton street photography galleries for even more inspiration!
If you're still stuck, leave a comment below. I'll do my best to help you!
Conclusion
To conclude my Brighton Street Photographers Guide, it's fair to say that Brighton is a city brimming with opportunities throughout the year. In fact, I think Brighton is best city in the UK for street photography! I hope you've found this guide useful and if you've got any questions please do leave a comment below.
Related Topics
You might be interested in more of my photography tutorials and tips here. Alternatively, you can learn more about my Brighton street photography here or my work as a professional photographer in Brighton and Sussex here.
Share this post: