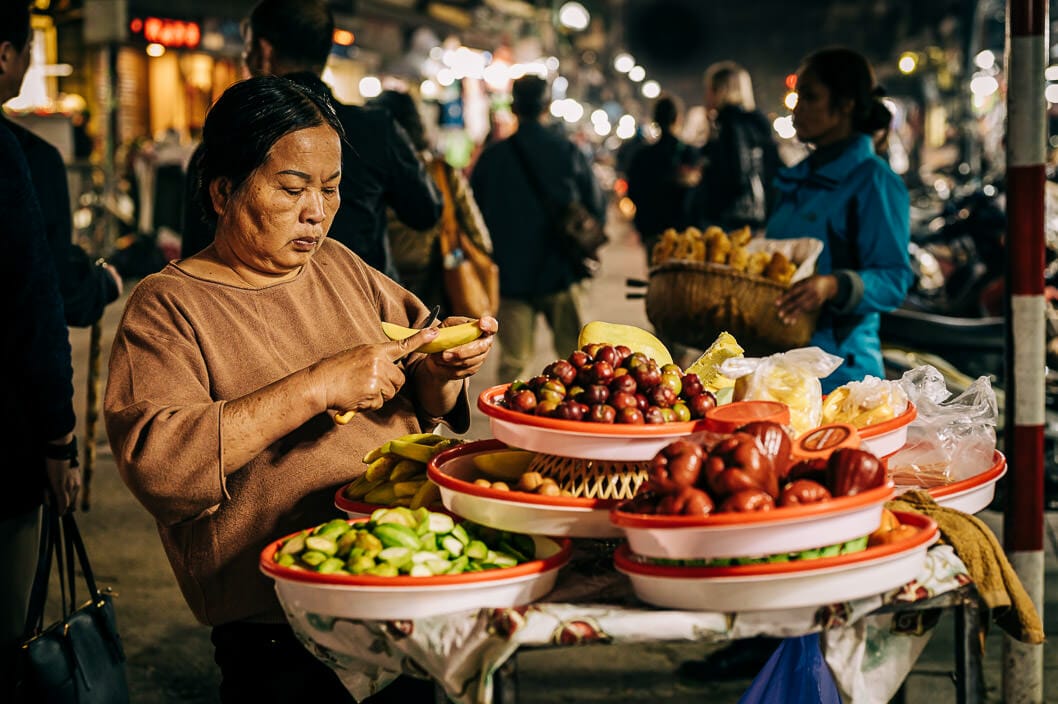 Greetings from Hanoi, or Good Morning Vietnam as Robin Williams would yell (bless him). For street photography and documentary Hanoi is an absolute paradise! I'll tell you the story about daily life in the amazing capital city of Vietnam!
Hanoi is a gloriously, fabulously, insanely crazy city. In other words it's awesome and I love it here!
Crossing the Street
I found a lovely little boutique hotel, the likes of which are plentiful, in the "Old Quarter" and this is where most tourists tend to hang out. Upon checking in I was given a briefing on "how to cross the street in Hanoi, Sir!" I thought it a little odd to be giving such a briefing to a grown man who knows his Green Cross Code. However, I'd arrived before sunrise and little did I know.
After a quick nap I decided to step out for a walk…. and immediately understood. The traffic is absolutely crazy with no concept of giving way to other motorists or pedestrians whatsoever! The gist of my earlier briefing was to simply step out into the road and keep going. Do not change course, stop, or step backwards. Crossing the street is simple! It works too. Insane.
The population of Hanoi is approaching 8 million and apparently there are around 4 million scooters and mopeds in the city. I believe it!
I'd say the only thing that outnumbers the 2 wheelers is the smartphone. Not any old smart phone either. Everyone seems to have an iPhone of some description, even the apparently poorest residents. They're all addicted to them too. I mean properly, hopelessly addicted. Much worse than our minor epidemic in the UK.
Hanoi is a hive of enterprise, there are street traders everywhere and stores bursting out onto every pavement. Oh and the food…. my goodness, its delicious! Possibly the best street food on the planet? The Vietnamese are a busy and industrious lot, I no longer think it is us Brits who are the nation of shopkeepers (a pity).
Hanoi Train Street
There's so much to see and do in Hanoi but I'm going to share with you my favourite part of the city for travel photography or a street photographer. No contest, it's the famous Hanoi Train Street and the surrounding area. I wont try and describe it, I'll let my images tell you the story. That's the documentary photographer within me coming to the fore!
Click on the photos to view full size:
That's all for now folks so I'll sign off for by saying Good evening Vietnam! To be continued…..
Related Posts
Here are some related posts featuring international street photography:
Alternatively, you can see more of my work as a reportage and documentary photographer here.
Share this Post: