This post documents a coastal photography walk from Newhaven East Beach to Seaford Head in East Sussex on Thursday 8th April 2021.
Otherwise dubbed as the "Back Row Boys" post Lockdown reunion and catchup. It also appealed to me as a documentary photographer.
Who are the Back Row Boys?
The Back Row Boys are a motley crew of mates: Greig, David, Luis and myself. If that sounds familiar it's because we're first mentioned on my blog when we went to London for some street photography back in March 2020. Shortly before the first Covid-19 Lockdown. We got the name because the four of us always sit together at the back for our weekly meetings at Brighton and Hove Camera Club. Well, we did up until Covid-19, when the club moved to Zoom meetings. But that's another story. I'm sure we're all familiar with that.
Tide Mills was the plan
David suggested a plan to meet at the Tide Mills Abandoned Village, having been intrigued by my recent blog post about this fascinating place. So that's what we did. It was a great choice for a reunion after Covid Lockdown and to explore photographic genres outside of our usual work. Tide Mills is situated on Newhaven East Beach near the east arm of the harbour. It's a sheltered bay with Seaford Head at the other end. It's some 2.6 miles end to end on foot.
Newhaven Harbour East Arm
Ironically, I didn't take any photographs of Tide Mills itself this time, I've done that before. On this visit my photography started at the east arm of Newhaven harbour. It's a fascinating structure. Brutal and worn by the forces of the sea. Plus, by visiting at low spring tide, you can walk right up to and even inside it: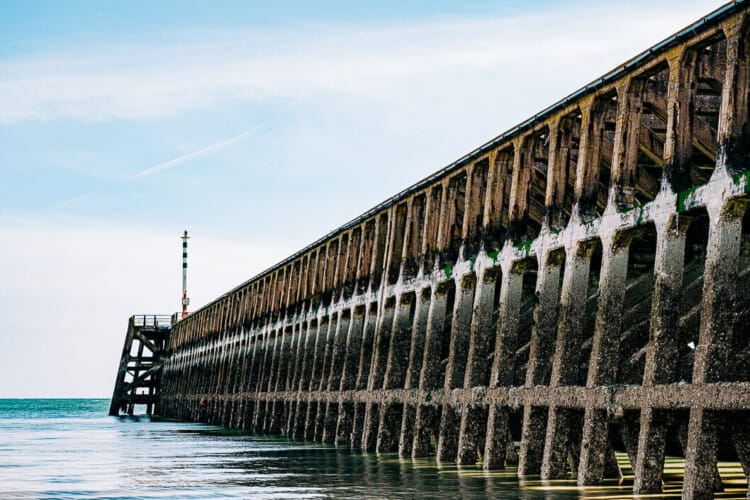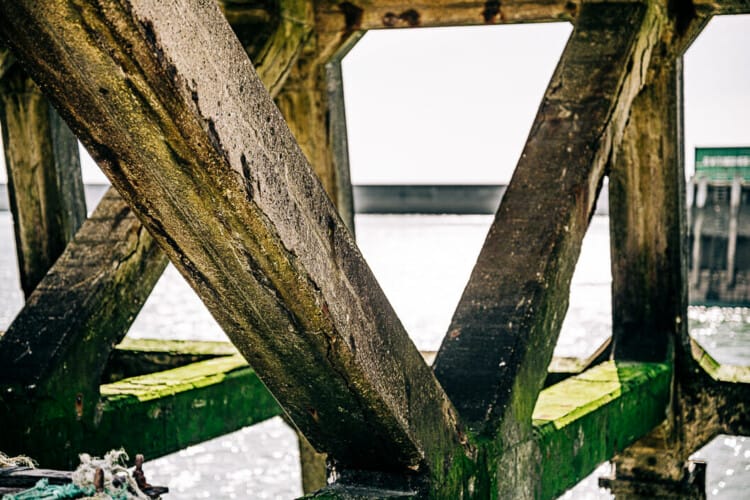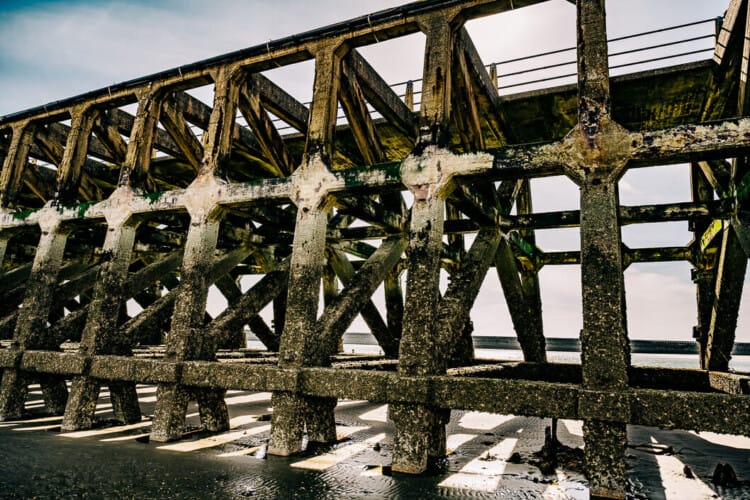 Inside Newhaven Harbour at Low Tide
Like I said, you can walk inside the structure of the east arm of Newhaven harbour at low tide. Just check the tide times and be careful please!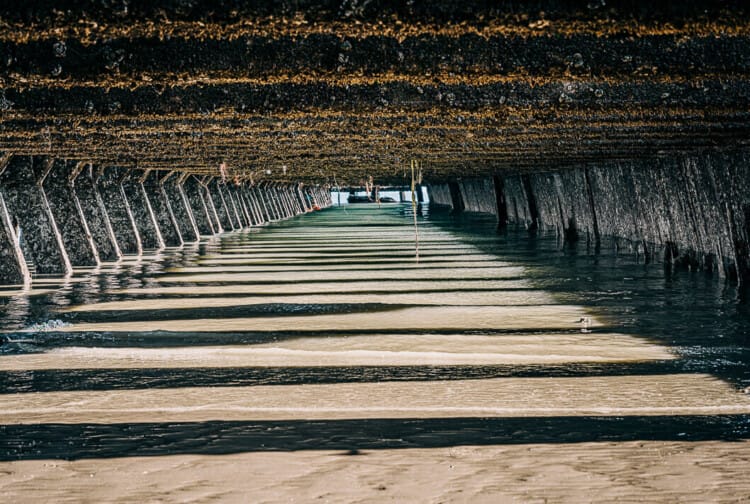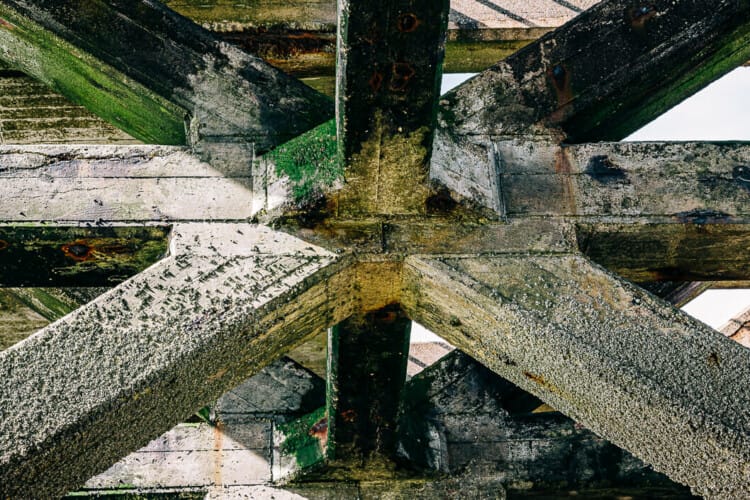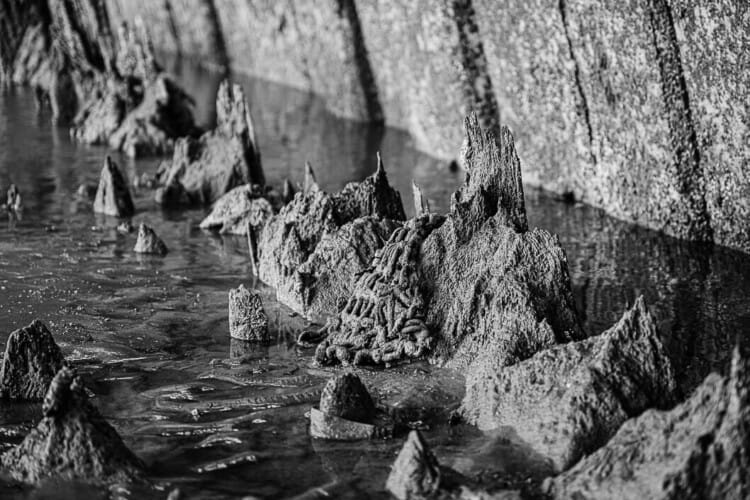 We needed a model
Obviously we needed a model for some shots. But the budget and planning didn't allow for it. Luckily one of the Back Row Boys got the job. It's just that he didn't know about it at the time!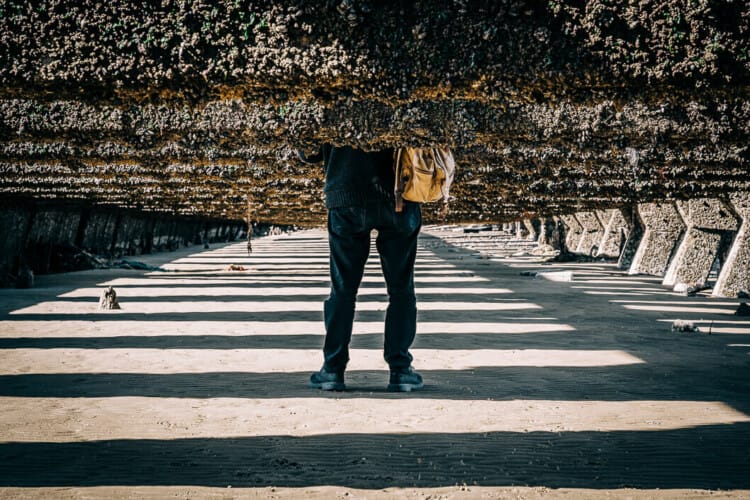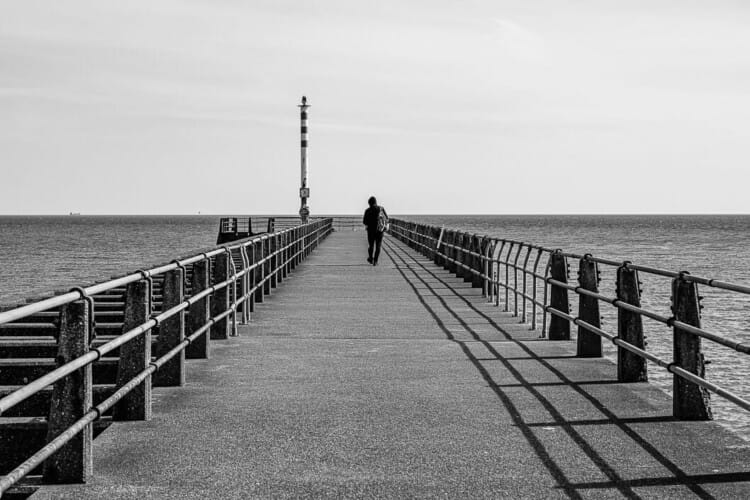 Negative Space
I love exploring the use of negative space, especially with my street photography in Brighton. I'm no expert at seascapes, but I enjoyed experimenting with it here on the beach too: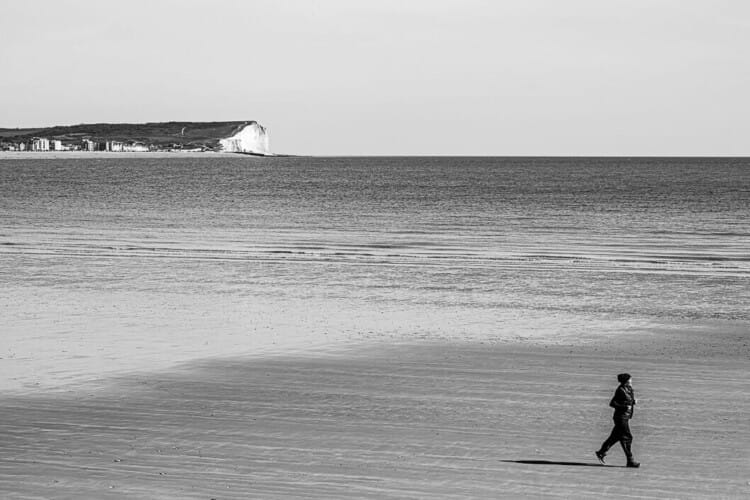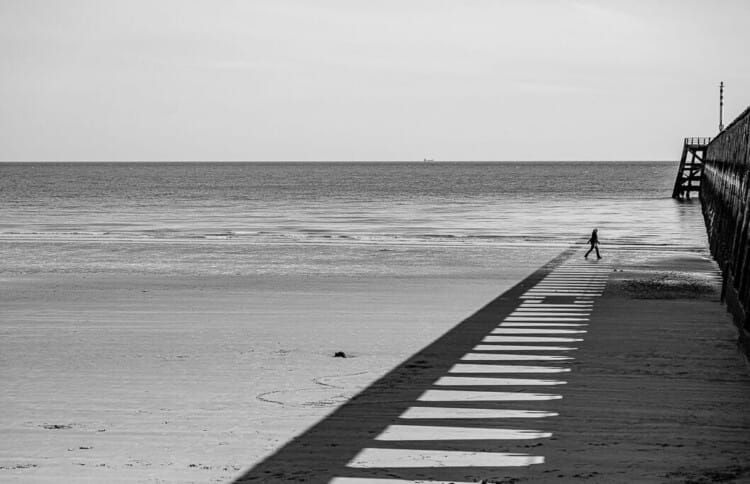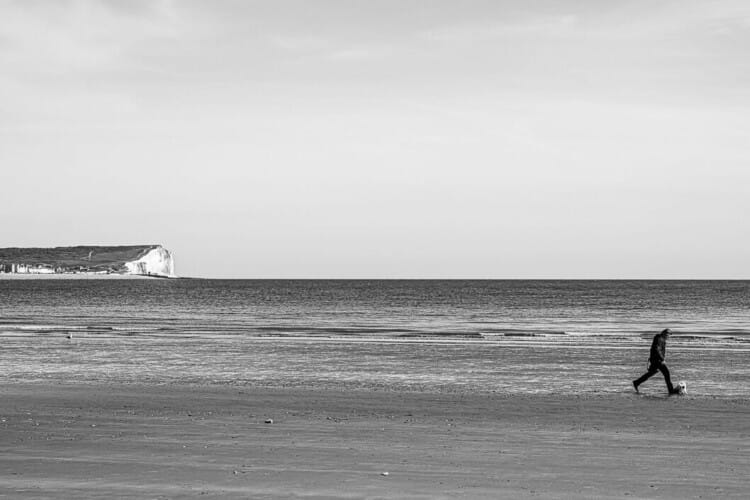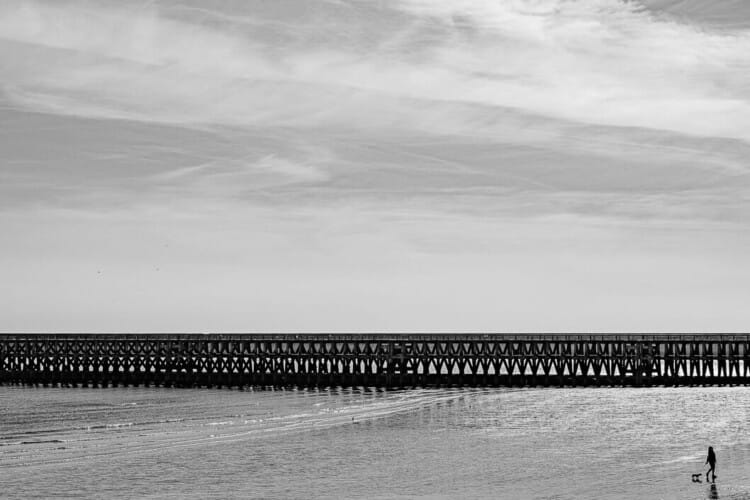 Seaford Beach
Seaford Beach is fascinating. It's an undeveloped beach with a mish-mash of housing designs adorning it. Frankly, it's a beautiful mess. This set of steps from the road down onto the beach caught my eye though: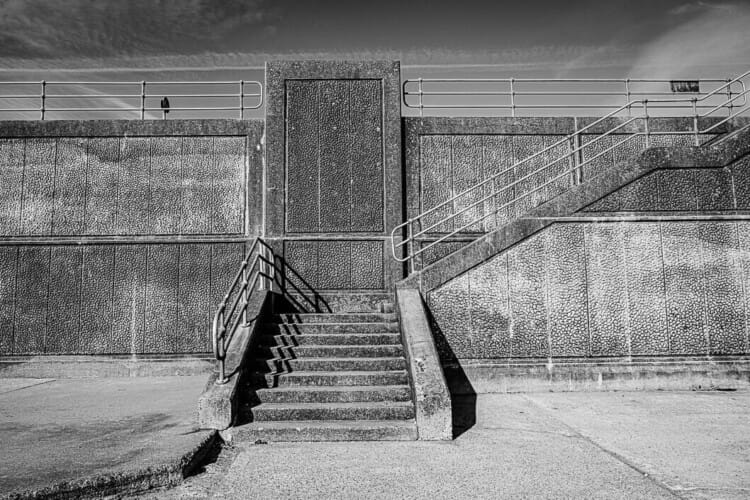 Plus there's a serene beauty about this part of the Sussex coast: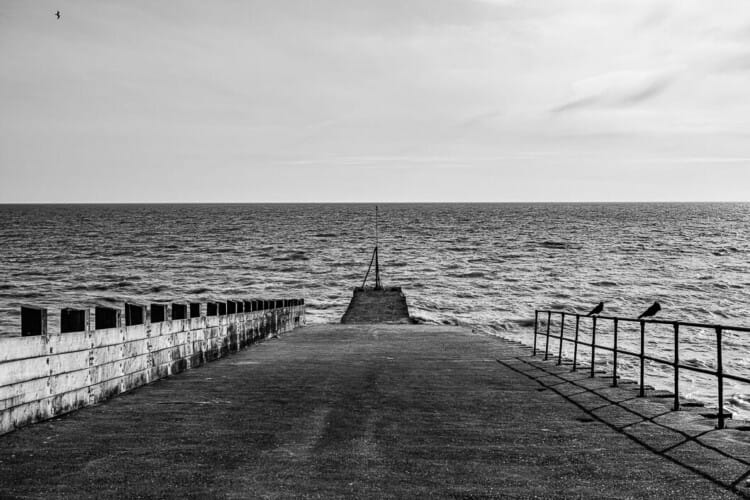 Seaford Head
Our journey ends at Seaford Head. A draw for seascape photographers and "well that's a nice chalk cliff" for the rest of us. Seascape photography is not really my genre, but to complete the story of our walk I'll include an image: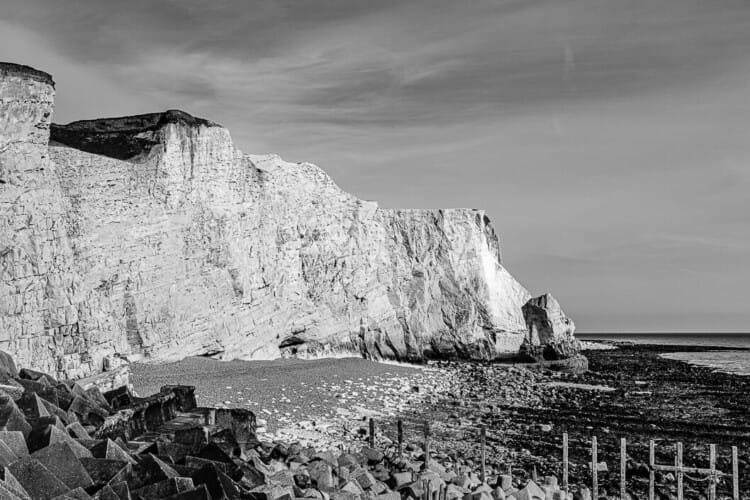 Bonus Image – Gorgeous Dog
Everyone loves dogs eh? This gorgeous dog joined us along the way. He was determined that we'd throw his stick for him. His owner thought it was hilarious! Bonus image: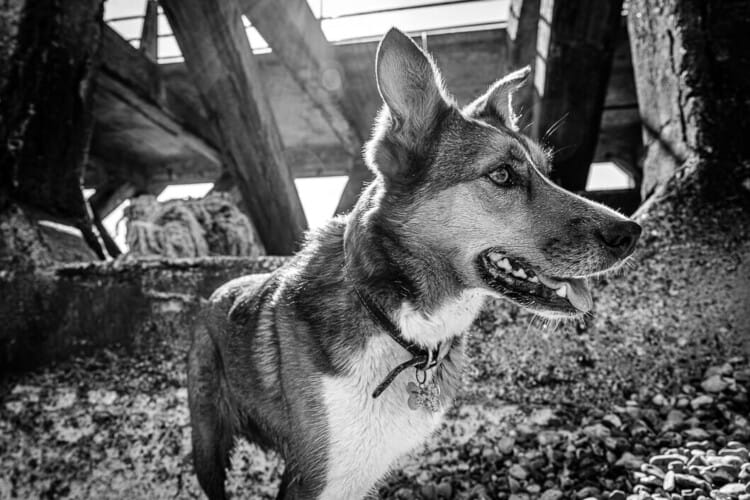 Map of our Route
We did a lot more than visit Tide Mills, as you can see from this map of our route. Bottom line? We walked a few miles. All the way from Newhaven East Beach to Seaford Head and back in fact!
Related Topics
You can learn more about my work as a professional photographer in Brighton and Sussex here and my documentary and events photography here. Alternatively, you might be interested in my Brighton street photography here.
Share this post: