I'm going to talk about my Sony camera equipment as a unit stills photographer and my thoughts on its use for professional photography in general.
Firstly, I've got to say this is a post I've resisted writing for a while. Mainly because I'm firmly in the camp that it's not the gear, it's the photographer who captures the moment. Not what equipment they own.
Secondly, my website is all about the images, not the gear used.
Lastly, I'm not a gear head and Sony have not sponsored this post or myself. I'm simply writing about the tools I chose and why I did so.
Having said that, I also believe that if you're going to be a unit stills or professional photographer for a living, you need to have the right tools for the job. You also need to have sufficient backup and redundancy with your equipment. After all, there's a (not so) fine line between delivering for your clients and "winging it".
So that's the reason for this post. It's a question I've been asked by colleagues and prospective clients many times: "What kit do you have?" Or "do you have the right kit?" So, to answer those questions here's my equipment, I'll also add my reasoning behind these choices:
I use Sony Alpha Cameras and Lenses
These days I shoot with the Sony Alpha system:
2 x Sony A9 II
1 x Sony A7R V
Sony FE 24-70mm f2.8 GM II
Sony FE 70-200mm f2.8 GM II
Sony FE 20mm f1.8 G
Sony FE 35mm f1.4 GM
Sigma 65mm f2.0 DG DN
Sigma 85mm f1.4 DG DN
Why are these my choices for Unit Stills Photography?
In my opinion you need two camera bodies for redundancy and backup. I actually have three! Things do break, get lost or malfunction. That said, my Sony gear has never let me down. It's all well built and very reliable.
This applies to unit stills or genres such as wedding photography and anything else that isn't repeatable (or embarrassing if you fail).
Two identical bodies are optimal because you can set them up to perform the same way. Ideally these bodies will deliver optimum results in low light for this kind of work.
For unit stills photography you need two bodies and fast zoom lenses as you cannot "zoom with your feet". Rather you tuck in where you can on set.
Therefore, the Sony 24-70mm and 70-200mm f2.8 GM II are the workhorse lenses for me and will cover 99.9% of what I need to do on set. One mounted on each body and carried together. I also appreciate their compactness and light weight when carried all day!
Why the prime lenses then? That's a great question! They are not essential but act as a backup and give me the opportunity to grab extra shots with artistic background blur and/or capture shots in ultra low light due to the brighter apertures.
Why the Sony A9 II bodies? On a film set you have to shoot with silent shutter on a mirrorless camera or use an unwieldy sound deadening blimp if using a dSLR.
However, whilst all mirrorless cameras have a silent mode, they can introduce two more problems: rolling shutter and flicker banding. Without getting too technical, cameras such as the Sony A9 II largely overcome these problems because they have a "stacked sensor". They are also brilliant cameras in low light situations due to their 24mp sensors.
I also have a 61mp Sony A7R V. This body serves as a third backup on set. It's also my primary camera for actor headshots, portraits, posters and specials. These are situations where the higher resolution is more beneficial to the final image than stacked sensors and low light performance.
Redundancy, Backup and Accessories
Having covered the equipment side of things we also need to consider redundancy, backup and essential accessories. Here's what I also take on shoots:
6 x OEM batteries.
12 x SD cards.
2 x battery chargers – one OEM that's mains powered and one third party that's USB powered.
Cleaning kit including sensor and lens cleaning tools.
If I'm on set for more than one day I also take my laptop and an external SSD hard drive. My laptop is a 16″ M1 Max MacBook Pro which is great for editing and culling. I save images to both the internal and external drive each day. If I have an internet connection the images are additionally backed up to the cloud. (I use Backblaze for cloud backup).
Additional backup is provided by shooting RAW to both card slots on the camera.
A sturdy tripod is sometimes essential. I have settled on top of the range Benro equipment. Their gear is a great bang for the buck.
Dual Harness/Strap – As a minimum I'm carrying two bodies and lenses all day on set. I save my back and shoulders whilst not missing a shot by using a Black Rapid Dual Camera Harness.
I use a variety of camera bags to carry the appropriate amount of equipment, which varies from job to job.
Clothing – I have a variety of gear to cater for warm, cold and wet weather. Don't draw attention to yourself by wearing bright colours. TOP TIP: I wear black to blend into the background whilst on set.
Lighting – Portraits, Actor Headshots, Posters and Specials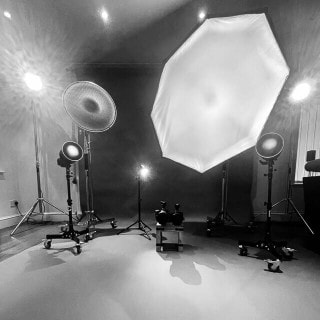 In addition to until stills photography and BTS shots you might also be asked to provide specials such as portraits and actor headshots for promotional posters and the like. You're gonna need some battery operated portable studio strobes and lighting equipment before saying yes to that!
I think battery powered kit is important these days, you don't want to be tripping over power cables or finding there isn't nearby mains power on location. Here's what I use, it's all Godox equipment:
Godox AD600 Pro x 2
Godox AD200 Pro x 2
Godox AD200 x 2
Godox V1s x 1
Godox XPro II S triggers x 2
Potable backgrounds, stands and soft boxes – numerous.
Tethering software and cables for the MacBook.
My trusty small van to carry such equipment to jobs when needed!
Conclusion
In conclusion I've talked about the Sony equipment I use as a unit stills photographer, but I also mentioned the wider genre of photographing professionally. I appreciate that not everybody can afford the equipment I have. Nor do you need it all at first. We all have to start somewhere right?
What I like about Sony for beginners is the cost effective price of older models plus the attractive pricing and availability of used bodies and lenses. There's a ton of reasonably priced third party lens options for the Sony mount too. Remember, you're buying into a system and Sony is perhaps the most cost effective place to start for a full frame professional system. It's a system you can grow with!
Other Brands
Of course there are other brands. I've used several different brands over the years including Canon, Nikon, Leica and Olympus. They are all great. I chose Sony for the reasons mentioned in this post. At the end of the day there's no such thing as a bad camera system these days!
That said, for unit stills photography, I think you need a mirrorless system rather than traditional dSLR's as a minimum, for the silent shutter alone.
However, if my thoughts on the advantages of stacked sensors for this kind of work resonate with you, check out the used prices for the original Sony A9. I think you'll be pleasantly surprised. Even the A9 II's I use are attractively priced on the used market.
Key Takeaway
I think the key takeaway is to ensure you have at least some backup kit when starting out. I know that can be a chicken and egg situation at first. But please ensure that you charge enough to live on with enough profit factored in to build your kit for what you need in the longer term. After all, it's a business and you must price yourself accordingly.
In the meantime, don't wing it by over promising at the risk of under delivering on larger jobs that you're not yet experienced or equipped enough to deliver. Start small, you'll get there in the end!
Final Thought
Here's a final thought. When starting out you can always hire additional equipment for important jobs until you've built your own kit to an optimum level.
Unit Stills and BTS
You can learn more about my behind the scenes photography and work as a unit stills photographer here.
Related Topics
Alternatively, you can see more of my professional photography here, featuring a wider range of photographic genres. You might also be interested in reading more of my photography tutorials and tips here.
Share this post: